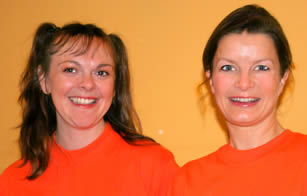 About Suzanne Brockett
Professionally trained in dance, drama and singing at Bird College of Performing Arts. She also attained associate level (A.L.A.M) from the London Academy of Music & Dramatic Art. Her performances have included plays by Alan Ayckbourne, Dance Theatre In Education and good old cabaret! She has also managed Charles H Fox Ltd, who provide advice and the supply of special effects and make-up to film theatre and TV. Currently Suzie also works with Haslemere Performing Arts and at Tiny Angels award winning Modelling and Acting agency. Her greatest challenge to date are her 2 children Josh and Toula. Toula has played Lily Potter in Harry Potter and the Cursed child at The Palace Theatre, West End at the age of 11.
About Susannah Wilson
Professionally trained in all aspects of musical theatre at The Arts Educational School in London. She spent the last 18 years as a professional singer, dancer and actress. She has starred in musicals such as Me and My Girl (opposite Gary Wilmot) and Grease (opposite Shane Ritchie). Her solo cabaret performances on major cruise lines worldwide; TV commercials; and numerous recordings (including her own album), have given Susannah a unique and rewarding career. Not as rewarding however as having Archie – her son, Erin her daughter and new baby Jimmy; who join her in this musical adventure!
Since starting our musical adventure we have loved seeing the classes and children grow.
We are passionate about holidays classes. As parents ourselves particularly with our firstborns, we felt lost when suddenly all the mother and toddler play times stopped - what to do? Well we made the decision to allow parents to bring their elder children along if necessary - and it is incredibly gratifying to see them reminiscing with their younger siblings and being a great help. It's quite an eye opener and shows the lasting

joy of music gained from such

an early age.